the rangefinder bracket is inspired by the panning ability of the panatape.  however, this new rangefinder bracket has a gear on the knob.
any remote focus motor can pan the bracket.
the new bracket is also more modular with a removable extension piece and rotatable end pieces.
the camera 15mm mounting post has 3/8″ threads.
a removable locating pin disc provides more secure mounting.
the guide pin disc works on arri or panavision cameras. it can be removed for red or sony cameras.
included in the kit is a horizontal 15mm post for mounting a remote focus motor to pan the bracket.
optional purchase for cinetape, sniper, udm, focusbug, c-finder & light ranger adapters.
RANGEFINDER & Preston DM (VIDEO)
RANGEFINDER & Chrosziel CDM-100 (VIDEO)
Dimensions of the Rangefinder Bracket:
mounting post:  2″ x 3/4″ x 3/4″ weighs 3oz
extension arm:  5″ x 1-1/2″ x 1″ weighs 4 oz
motor mount:  3″ x 1-1/2″ x 1/2″ weighs 3oz
gear box: 3-1/2″ x 2″ x 1-1/2″ weighs 8oz
Adjusting the Rangefinder Bracket
loosen all 4 of the allens on the top of the gearbox.  you can see that those are the ones with little oval holes around them.  the bottom holes are perfect circles.  you can set the tension by pinching the front & back of the lid against the gearbox.  the adjustments are to the 1/1000th's.  if you squeeze hard & try to turn the gear, you will find it very difficult.  from there, loosen your grip until you find the level of tension you want.  while maintaining your grip, tighten the 4 allen heads.  your gearbox should be good to go from here.  some people want more & some want less tension.  you'll have to find the right balance for your setup.
fyi, the screws are m2 x 0.4 x 6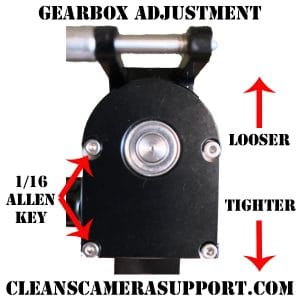 Terms of the Rangefinder Bracket:
"available on backorder" items will be available in 1-3 weeks.  See "FAQ" for more details.
Links for the Rangefinder Bracket:
Light Ranger 2
best LR2 overlay bracket:Upgrade Innovations
https://teradek.com/collections/teradek-rt
Chrosziel cdm-100 the perfect companion motor to the rangefinder bracket!  under $1000 from B&H, preston compatible.